3. Why is Peer Support Important?
The Peer Support model has been recognized as an important component of Workforce Safety, Adverse Event Management, Safety Culture, and Patient Safety.
Workforce Safety
The expectation that clinicians deftly manage the stresses of practice often predisposes healthcare professionals involved in adverse events to experience isolation, blame, and shame. Adverse events and difficult situations commonly result in staff stress, burnout and, in severe situations, PTSD.
Signs and symptoms of an impacted clinician can include:
Behavioral: Insomnia, inability to get things done, burnout, hypervigilance.
Emotional: Anxiety, fear, guilt, shame, anger, isolation, moodiness, depression, decreased self-worth, feeling out of control.
Cognitive: Indecision, confusion, inability to concentrate, obsessive re-play of event, loss of humor, loss of creativity.
Physical: Fatigue, nausea, backache, headache.
There is a growing body of evidence that Peer Support is an effective tool in helping staff successfully manage difficult situations, increase resiliency, and decrease burnout. Peer Support helps mitigate the 3 components of staff burnout: emotional exhaustion, depersonalization, and reduced efficacy.
Studies have shown that support from fellow colleagues is the most preferred source of emotional support following an adverse patient-related event. The second most preferred source of emotional support following an adversepatient-related event is from managers/supervisors. The Peer Support model prepares both colleagues and managers/supervisors to effectively support clinicians involved in adverse patient-related events.
Preferred Sources of Emotional Support for Healthcare Providers After an Adverse Event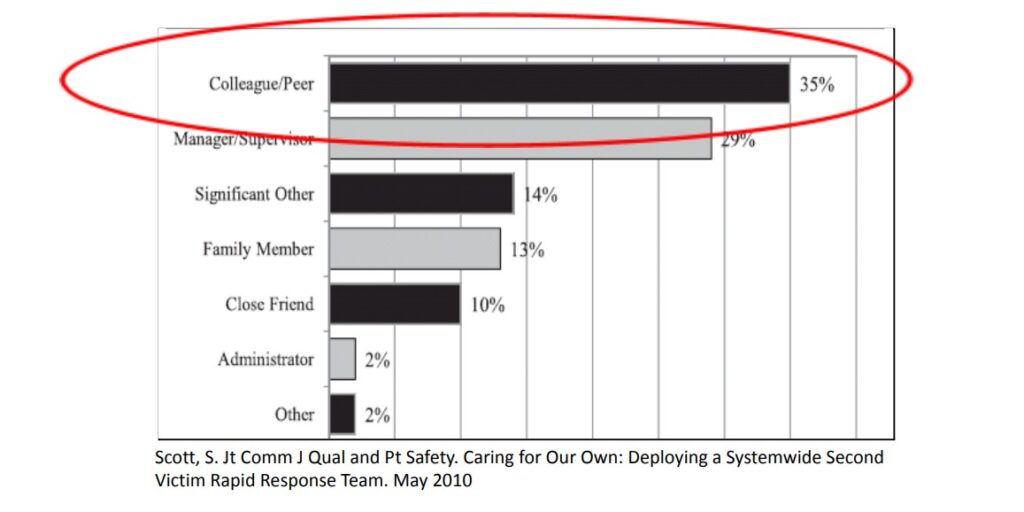 Adverse Event Management
Peer Support is a major part of every step of Adverse Event Management, from immediate actions, to the investigation, to the resolution process.
Recommended Steps for Adverse Event Management
1. Immediate Action
2. Investigation
3. Resolution
Immediate mitigation
Patient/family communication
Provider support
Root Cause Analysis (RCA)
Patient/family communication
Regulatory/financial reporting
Provider support
Case resolution
Manage claims
Patient/family council
Provider support
Safety Culture
A Peer Support program guides an institution away from a culture of invulnerability, isolation, and shame and toward a culture of open communication, clinician well-being, and Patient Safety. When staff know that a Peer Support program has been established to support them, the shame and fear staff may otherwise experience when involved in an AE is mitigated. Experiences are normalized and blame is shifted away from the individual. A culture is fostered in which staff can comfortably disclose errors, and processes and policies can be put into place to prevent these errors from reoccurring.
Patient Safety
Workforce Safety is a prerequisite for Patient Safety. How can staff care for others when they themselves are enduring a crisis? The second victim phenomenon increases the likelihood of medical errors and suboptimal care as the second victim suffers emotional and physical disturbances following a patient-related AE. Peer Support facilitates workforce readiness, ensuring that patients remain safe while under the care of healthcare providers.