Objectives of the care of second victims
The care of second victims responds to the following objectives:
It must be considered that when an adverse event occurs the professional doubts his or her capacity for clinical judgement. It is therefore necessary to adopt measures to ensure the quality of health care, considering that a premise for guaranteeing quality is that professionals feel that they have sufficient capacity to carry out their work in an appropriate environment. A supportive environment, a supportive organisation and an integrated team of professionals are prerequisites for providing optimal care.

Minimise the negative emotional impact on second victims of unexpected incidents such as adverse events by providing them with the necessary support, which has a positive impact on safety of the following patients to be cared.

Avoiding non-quality costs, since the individual and social effort involved in training a healthcare professional(s) is cut short when the professional doubts his or her clinical judgement and ability to continue in his or her profession and decides to leave or change position.
The feeling of lack of protection reduces the quality of care, causes disaffection among professionals and, in short, makes it difficult, if not impossible provide optimal care.
But this approach requires a non-punitive environment where talking about what happened does not have additional negative consequences.
The three-stage intervention model suggested by Susan Scott is the most widespread. It is based on peer support, first from the unit itself and at a second level by trained peers. The third level is based on more specialised support.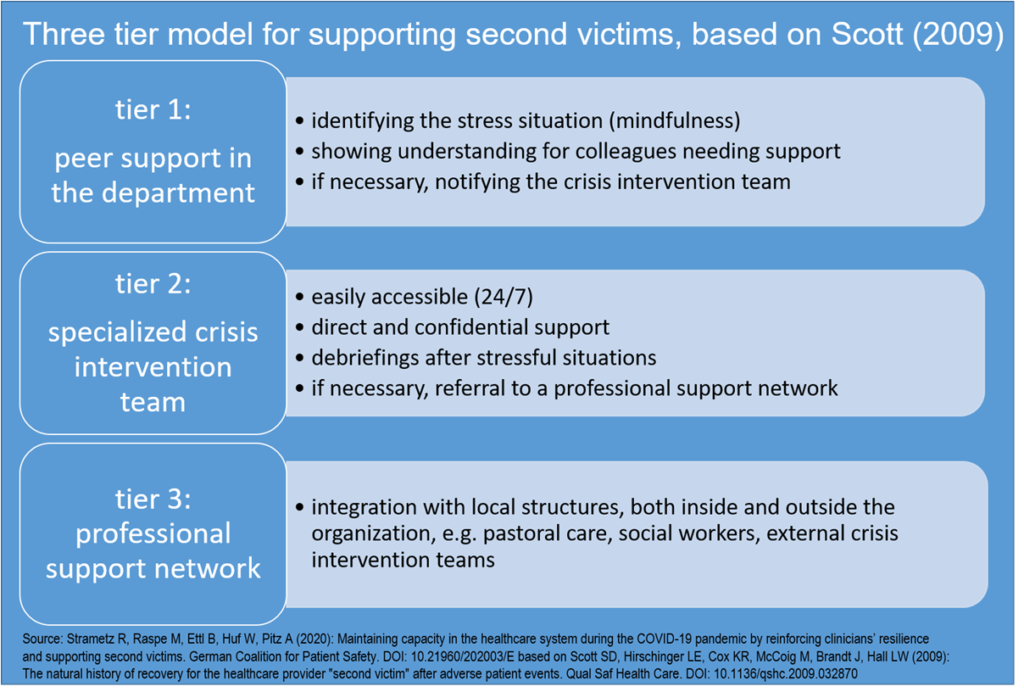 During the new corona pandemic, this model has been the basis for interventions to support frontline professionals in the care of COVID-19 patients.