The second victim phenomenon affects not only the healthcare workers health and wellbeing but could also have impact on patient safety.
A study conducted by Scwappach and Boluarte1 showed the domino effect after an adverse event. The professionals most directly involved can experience anxiety symptoms, feelings of guilt and doubts about their clinical capacity that diminish their competence. Those changes in clinical practice could led to offer suboptimal patient care and to be involved in further errors, putting other patients at risk. It is a vicious circle, as shown below:
Therefore, the management of the risks inherent in the healthcare activity is key to the patient safety and for professionals' effectiveness.
Despite the importance of risk management, on some occasions an adverse event will occur because not all the events are preventable, with physical and psychological consequences to the professionals and causing potential changes in clinical care. Breaking the cycle is only possible by providing appropriate support to the healthcare workers, improving resilience, and diminishing the hypothesis of being involved in an error in the near future.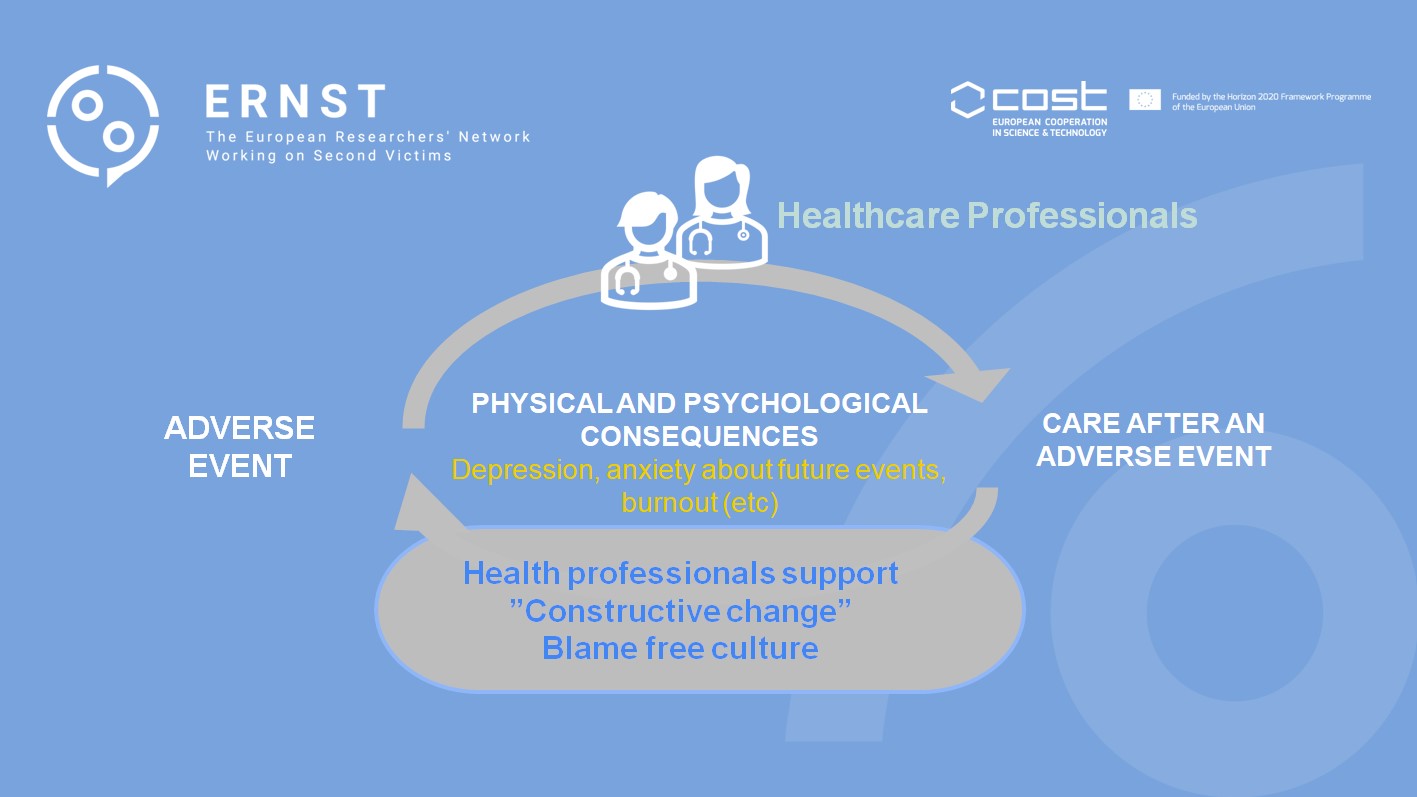 Denying the importance of 'caring for those who care' is undermining possibilities for patient safety. Organizations that implement interventions to help professionals deal with safety incidents stand out for their ability to reduce the number of adverse events. Those organizations make their professionals gain confidence in their ability to cope with the growing complexity and uncertainty of clinical practice and thus achieve optimal quality of care.
Top Priorities for Healthcare Organisations:

Enhancing patient safety goes through empowering and engaging healthcare professionals. Some key requests of the healthcare professionals can be summarized as below. 2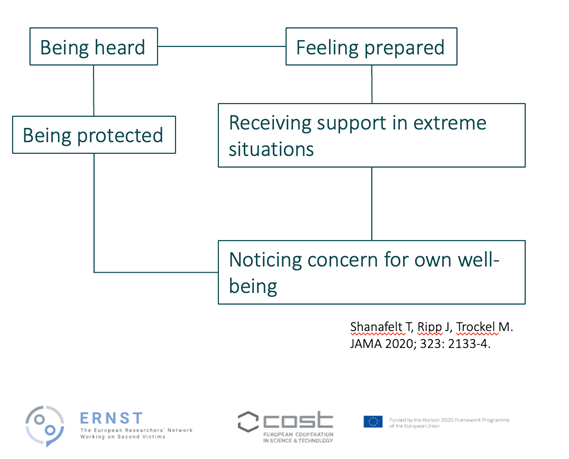 And furthermore, the second victim phenomenon is also a working conditions problem?
The second victim phenomenon seems to be inherent to the healthcare professions: after all, it is not possible to avoid 100% of the adverse events, near-misses and so on. We could work to minimize the occurrence of incidents and its impact on the first, the second and the third victims. But sooner or later a healthcare worker will feel traumatized from something related with his/her work.
So, the second victim phenomenon should be seen as part of occupational safety. Accordingly, policy makers should act towards the protection of a workforce that for now is still at risk.
---
Schwappach DLB, Boluarte TA. The emotional impact of medical error involvement on physicians : a call for leadership and organisational accountability. Swiss Med Wkly. 2008;138(1–2):9–15.
Shanafelt T, Ripp J, Sinai M, Trockel M. Understanding and Addressing Sources of Anxiety Among Health Care Professionals During the COVID-19 Pandemic. JAMA. 2020;323:2133–4.