It was already addressed that a culture of punishment and blame would undermine the objectives of Patient Safety because the hidden causes (the latent conditions) wouldn't be addressed. For the other hand, one expects accountability from the healthcare sector when something bad occurs, and from the individuals who had a reckless behaviour or wilful misconduct. Recognizing that, just culture intends to develop a system where there is open reporting, but appropriate accountability of the individual's actions.
Just culture is an environment which seeks to balance the need to learn from mistakes and the need to take disciplinary action. 1
It means that one has to distinguish between different behaviours that can result in harm, because they are qualitatively, technically and legally different. According to that, they might have differentiated consequences, as showed by Marx 2: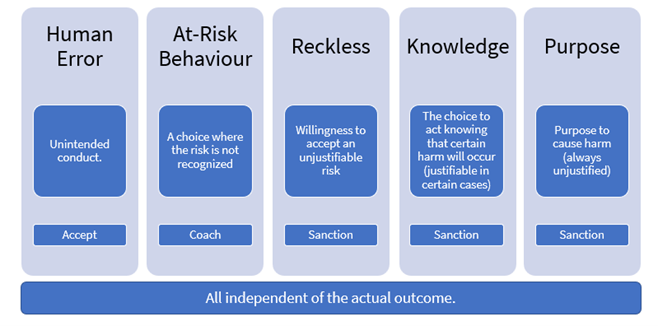 Just culture intends to provide a productive discussion about system design and behavioural choices, creating also a safer psychological environment for the healthcare workers and promoting better outcomes to the patients.
---
World Health Organization. The conceptual framework for the international classification for patient safety – final technical report. Geneva: World Health Organization; 2009.
Marx D. Patient Safety and the Just Culture. Obstet Gynecol Clin North Am. 2019;46(2):239–45.